#ThinkingDay #FoundersDay #WTD2018 #GSB
English
Thinking Day and Founders Day takes place every year on February 22nd on the occasion of BP's birthday.
All scouts and guides from all over the world celebrate Guiding and Scouting that day. This is an opportunity to proudly show the world that we are part of a global movement that we love so much.
And this year again, the five guide and scout movements of Belgium celebrate together the birthday of their founders, Robert and Olave Baden Powell.
But what can be done to celebrate Founders Day?
First, wear your scarf at school, at work, or wherever you go that day, to show that you too are part of the family of Scouts and Guides. So, you will show that you too are part of this worldwide movement and that you share our values.
You can also change your profile picture into a photo with your scarf or you can also post photos of you in uniform with the different hashtags.
You can also add the Thinking Day frame to your profile picture on Facebook.
Shout loudly what it means for you to be a scout or a guide !
Français
Le Thinking Day et Founders Day, ou en français journée de la pensée, a lieu chaque année le 22 février à l'occasion de l'anniversaire de BP.
Tous les scouts et guides du monde entier fêtent ce jour-là le guidisme et le scoutisme. C'est l'occasion de montrer fièrement au monde que nous faisons partie d'un mouvement mondial que nous aimons tant
Et cette année encore, les cinq mouvements guides et scouts de Belgique fêtent ensemble l'anniversaire de leurs fondateurs, Robert et Olave Baden Powell.
Mais que peut-on faire pour fêter le Founders Day ?
Tout d'abord, porte ton foulard à l'école, au boulot, ou où que tu aille ce jour-là, pour montrer que toi aussi tu fais partie de la grande famille des scouts et guides. Ainsi, tu montreras que toi aussi tu fais partie de ce mouvement mondial et que tu partages nos valeurs.
Tu peux aussi changer ta photo de profil en une photo avec ton foulard ou tu peux aussi poster des photos de toi en uniforme avec les différents hashtags.
Tu peux aussi ajouter le cadre du Thinking Day sur ta photo de profil sur Facebook.
Crie haut et fort ce que ça signifie pour toi d'être scout ou guide !
Nederlands
De Thinking Day of Founders Day vindt elk jaar plaats op 22 Februari, de verjaardag van BP.
Alle scouts en gidsen vieren op die dag guiding en scouting. Het is de gelegenheid om trots te laten zien dat we deel zijn van een wereldwijde beweging, waar we echt van houden.
Dit jaar vieren de vijf scouts en gidsen associaties van België samen de verjaardag van hun stichters: Robert en Olave Baden Powell.
Maar wat kan je doen om Founders Day te vieren ?
Eerst en vooral, draag je das op school, op het werk, of waar je die dag ook gaat, om te tonen dat je behoort tot de grote familie van scouts en gidsen. Zo toon je dat je deel uitmaakt van deze wereldwijde beweging en dat je onze waarden deelt.
Je kan ook je profielfoto veranderen in een foto met je das of gewoon foto's posten in uw uniform, met de verschillende hashtags.
Je kan ook het frame van Thinking Day op je profielfoto zetten.
Roep luid en duidelijk wat gids zijn of scouts zijn voor jou heeft betekent !
Communiqué de presse – Persbericht
Facebook frame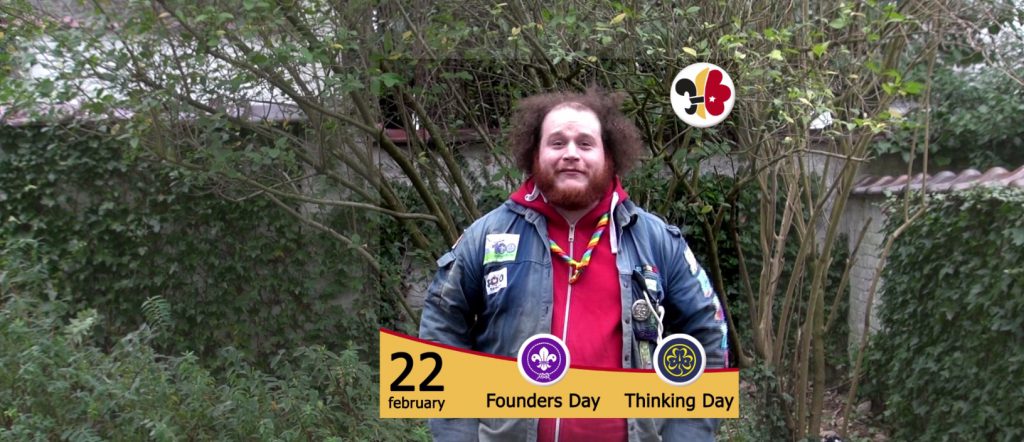 Add the frame to your Facebook profile picture. Go to the GSB Facebook page to add it to your profile picture
Infographics